BLACKPINK, From LA Concert→The 'James Corden Show'… Takes Over the United States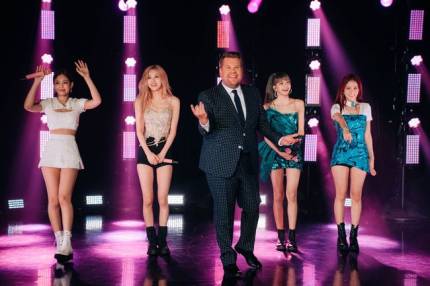 [OSEN=이소담 기자] Group BLACKPINK is dominating famous talk shows from CBS' 'The Late Show with Stephen Colbert', ABC's 'Good Morning America', ABC's 'Strahan and Sara', and CBS' 'The Late Late Show with James Corden'. It makes the people realize BLACKPINK's popularity in the States.
On April 19 at 12:37 AM(EST), BLACKPINK appeared on CBS' 'The Late Late Show with James Corden'. 'The Late Late Show', which premiered back in 1995, is a program with a long history and culture and broadcasts not only in the US, but also in Canada, New Zealand, Australia, and UK through CBS' partner channels.
James Corden introduced BLACKPINK by stating, "They are the first to appear on our show as a K-Pop girl group". BLACKPINK captured the local viewers' hearts by revealing their joyous charms through flinch, the program's signature game, and presenting their unique charisma through their performance of 'KILL THIS LOVE'.
BLACKPINK has previously proven their global influence by unprecedentedly releasing their album on the 5th at '0 AM'. Just like their nickname, the view count fairies, BLACKPINK's MV for 'KILL THIS LOVE' surpassed 100 million views in 62 hours since its release, setting a new world record. The video surpassed 200 million views in 11 days, 18 hours and 50 minutes since its release, which is the fourth fastest record in the entire globe. Furthermore, 'KILL THIS LOVE' entered the 'Hot 100', which is Billboard's main single chart, as no. 41, while the album 'Kill This Love' entered the 'Billboard 200', which is Billboard's main album chart, as no. 24. They have entered Billboard's main charts with the most successful results in K-Pop girl group history.
People should also pay attention to the heated response coming from fans in the US. BLACKPINK has begun promoting their album in the States by performing at 'Coachella Valley Music and Arts Festival', the biggest music festival of the US, on April 12(local time). They were the first K-Pop girl group to perform at the according festival. On April 17(local time), the group began their first-ever North America tour titled BLACKPINK 2019 WORLD TOUR with KIA [IN YOUR AREA] LOS ANGELES' in THE FORUM, located in Los Angeles.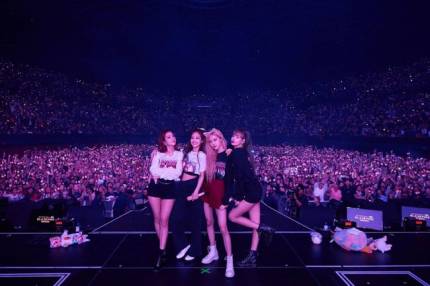 Artists such as Elvis Presley, Jackson5, Freddie Mercury, Elton John, Eric Clapton, The Backstreet Boys, and Lady Gaga have previously performed at THE FORUM.
Global celebrities including Harry Styles of One Direction, Pharrell Williams, Benny Blanco, DJ Snake, Pop band LANY, promoter Paul Tollett of the Goldenvoice, AEG's North America division president Rick Mueller, and related officials from Interscope Records, which is the representative label of Universal Music Group, have attended the concert. It is said that 'KILL THIS LOVE' made the audience sing-along and show heated responses. 
While BLACKPINK will be performing at 'Coachella Festival' on the 19th for their second time, BLACKPINK will continue to go on with their North America tour consisted of 8 concerts in 6 cities. The group will perform in Chicago on the 24th, in Hamilton on the 27th, in Newark from May 1~2, in Atlanta on May 5, and in Fort Worth from May8~9.
2019. 4. 19.