The Late Show'→'Good Morning America'… BLACKPINK Reveals Behind-the-Scenes of Their US Debut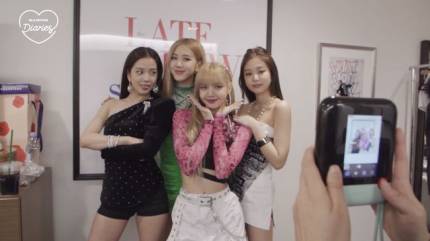 [OSEN=강서정 기자] Behind-the-scenes of girl group BLACKPINK's US debut promotion were revealed.
Today(20th) at 10 AM, YG Entertainment uploaded the 5th episode of the 'BLACKPINK DIARIES' through their official blog. The video which contained behind stories of BLACKPINK's US debut showed the members shooting the cover for Billboard, the famous American music magazine, in Los Angeles.
As it was their first official schedule in the US, members of BLACKPINK revealed their 4 unique charms by posing in front of a varied background while dressed up in luxurious high-fashion look. In addition, BLACKPINK perfectly handled their radio broadcast and interview schedules as well as having their first successful US debut performance at the UMG Grammy Showcase.
BLACKPINK then headed to New York to appear on CBS' representative late-night talk show, 'The Late Show with Stephen Colbert'. They added more meaning to their appearance since they were the first Korean artists to appear on the show, and it was their first US broadcast debut.
The video also contained the members taking a break in the midst of their busy schedule. JISOO and LISA went out to a local mart. They shopped American snacks, and made the fans smile by not being able to pass on toys and games corners.
BLACKPINK also appeared on ABC's morning show, 'Good Morning America, GMA', which clearly marked their presence. The fans who gathered despite the harsh weather did not stop cheering, and passionately routed for BLACKPINK when they appeared.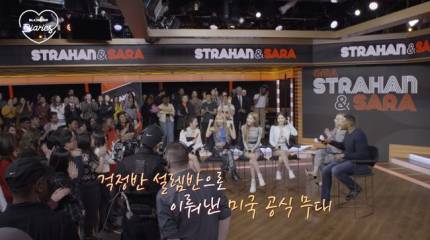 JENNIE shared her excited thoughts prior to the live broadcast by stating, "I haven't been on a single morning show in Korea, but I am doing it here in the States". BLACKPINK grabbed the hearts of local fans gathered in Times Square with their glamorous performance and fluent English skills.
During the show, the local fans of the US prepared a special event for ROSÉ 's birthday and sang a happy birthday song for her. ROSÉ smiled brightly as if she was deeply touched. During the interview, ROSÉ shared her gratitude towards her fans by stating, "The most important thing about our tour is to make you smile" and added, "The fans' being happy always excites us and we are looking forward to spend time with BLINKs of the US".
On April 17(local time), BLACKPINK has successfully completed their concert in Los Angeles, which was the start of their first-ever North America tour. While BLACKPINK will be performing at 'Coachella Festival' on the 19th for their second time, the group will continue to go on with their North America tour consisted of 8 concerts in 6 cities. The group will perform in Chicago on the 24th, in Hamilton on the 27th, in Newark from May 1~2, in Atlanta on May 5, and in Fort Worth from May8~9.
2019. 4. 20.