"Into BLACKPINK" Ariana Grande→Drake·Halsey, ★BLINKS of Hollywood
[OSEN=이소담 기자] Girl group BLACKPINK proved their heated popularity in the States, with Hollywood celebrities falling for BLACKPINK.
On April 12(local time) at 8 PM, BLACKPINK continued their US promotional activities by performing at 'Coachella Valley Music and Arts Festival', held in Indio, California.
The fans showed heated reactions after BLACKPINK performed at Coachella for the first time as a K-Pop girl group. After their performance, 'BLACKPINK X Coachella' was the no. 1 ranked keyword in Twitter's worldwide trend rankings. Paul Tollett, the founder of Coachella, praised BLACKPINK after watching them perform, while John Janick of Interscope Records, the representative music label of Universal Music Group, rapper Jaden Smith, and DJ Diplo visited the group's waiting room to show support.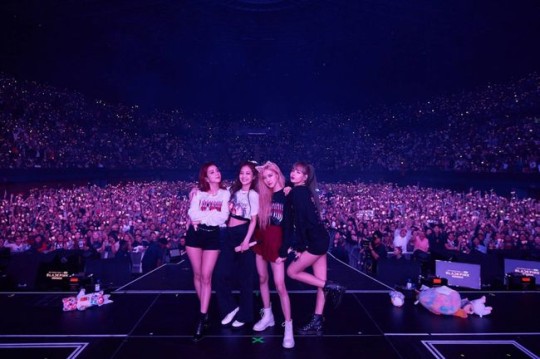 More celebrities came to see BLACKPINK on the 'BLACKPINK 2019 WORLD TOUR with KIA [IN YOUR AREA] LOS ANGELES' held in 'THE FORUM', Los Angeles, on April 17(local time). Celebrities including Pharrell Williams, Benny Blanco, DJ Snake, Pop band LANY, promoter Paul Tollett of the Goldenvoice, AEG North America division president Rick Mueller, and Harry Styles of One Direction came to watch BALCKPINK perform.
It is said that the audience's cheers towards BLACKPINK became even more heated on the group's second performance at Coachella on the 19th(local time).
Afterwards, Billboard published an article with the title that stated 25 celebrity fans of BLACKPINK including Ariana, Drake, and Halsey on April 19(local time). The article explained BLACKPINK's popularity among celebrities of the US. They wrote, "BLACKPINK is a K-Pop girl group expanding at a face pace, while their unique identity formed a huge fandom all over the globe, including Hollywood".
The 25 teams covered by Billboard included Dua Lipa, Ariana Grande, Harry Styles, Halsey, James Corden, Diplo, Kendall Jenner, Hailey Bieber, Pharrell, Jaden Smith, Todrick Hall, DJ Snake, James Charles, Lany, Benny Blanco, Drake, IU, Ricky Dillon, Niki, Irene Kim, KARD, Charlie XCX, Steve Aoki, Zedd, and SNH48.
The collaboration between Dua Lipa and BLACKPINK is already well known. The two teams collaborated through 'Kiss and Make Up', while the song reached 200 million streams on Spotify later on. Halsey also stood out from the list. Billboard introduced, "One can sense the affections coming from both sides between BLACKPINK and Halsey". ROSÉ uploaded a cover of Halsey's 'Eyes Closed', while Halsey uploaded a video of herself lip-syncing while enjoying BLACKINK's 'DDU-DU DDU-DU' on a waiting room during March.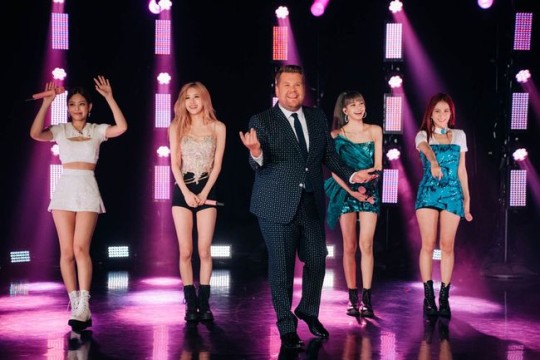 Kendall Jenner and Hailey Bieber were spotted while cheering for BLACKPINK's performance at Coachella. On a Instagram DM from a fan asking, 'Do you know BLACKPINK?', Ariana Grande responded, "Yes, I know. I might go watch them perform on the second week".
Harry Styles followed JENNIE's Instagram account after watching BLACKPINK's LA concert, which was part of their North America tour. Drake recently followed BLACKPINK's official Instagram account. Zedd responded to JISOO's cover of 'Clarity' with heart eyed emojis. Steve Aoki chose BLACKPINK as artists he would like to collaborate with, following BTS and Monsta X.
BLACKPINK and James Corden connected since BLACKPINK appeared on CBS' 'The Late Late Show with James Corden'(abbreviated as The Late Late Show' on April 19 at 12:37 AM(EST). After the airing of 'The Late Late Show', James Corden revealed his support towards BLACKPINK by writing, "I'm BLINK(BLACKPINK's fan club). I admit it" on Twitter.
2019. 4. 21.