BLACKPINK Hugs Pop Star Billie Eilish, "Meeting of Trend X Genius"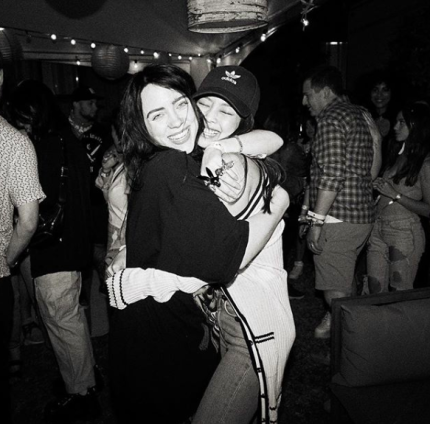 [OSEN=김은애 기자] BLACKPINK JENNIE met Pop star Billie Eilish.
On April 22, JENNIE uploaded a photo taken with Billie Eilish on her social media with the caption, "My crush".
The photo showed JENNIE and Billie Eilish hugging each other tightly. The bright smiles of the two people made the viewers sense the friendly mood. JENNIE even expressed Billie Eilish as 'My crush', which showed her special affections towards Billie Eilish.
BLACKPINK, the group JENNIE is part of, and Billie Eilish performed in Sahara stadium at 'Coachella Valley Music and Arts Festival'(abbreviated as 'Coachella') held on April 12 and 10 in Indio, California to present their amazing performances. BLACKPINK performed at the according festival for the first time as a K-Pop idol group.
Billie Eilish, born in 2001, is a singer-songwriter shaking up the Pop market despite her young age. Her unique depressive mood and uncategorized music are reviewed as being a musical genius. Her first album, 'When We All Fall Asleep, Where Do We Go?' released on March 29 topped both Billboard and UK charts, proving her heated popularity.
Meanwhile, BLACKPINK is setting milestones through their new EP album 'KILL THIS LOVE', released on April 5. The MV for the title song 'KILL THIS LOVE' has surpassed 200 million views on the 16th at 6:50 PM. The MV became the fastest K-Pop group video to surpass 200 million views.
Meanwhile, BLACKPINK also entered the main charts of Billboard with the highest ranks in K-Pop girl group history. The title song entered the 'Hot 100', Billboard's main singles chart, as no. 41, while their EP album 'Kill This Love' entered the 'Billboard 200', Billboard's main album chart, as no. 24. Their latest album also topped the World Albums chart, following their album 'Square Up', which was released last year.
2019. 4. 22.