BLACKPINK's 'KILL THIS LOVE', The Most Covered Song by Global Fans on April

[OSEN=김은애 기자] BLACKPINK's 'KILL THIS LOVE' received a lot of love from the global fans.
According to Amazer, the global K-Pop video community, BLACKPINK's 'KILL THIS LOVE' was the most covered song in the world by global fans on April.
'KILL THIS LOVE' is a song consisted of strong lead brass and epic drum sounds. Its' choreography includes a point dance which resembles a salute and even moves which looks as if the dancer is shooting a cannon on beat. The video was ranked at no. 1 on dance covers on 27 countries including the US, Canada, Australia, and the UK, allowing the song to be ranked at no. 1 globally. The dance video is currently at approximately 70 million views although it's only the 4th week, proving the popularity in covering BLACKPINK's choreography.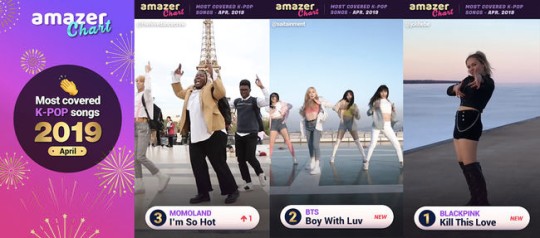 2019. 5. 8.