YG Disclosed Celebration Message for the 5th anniversary of 2NE1's Debut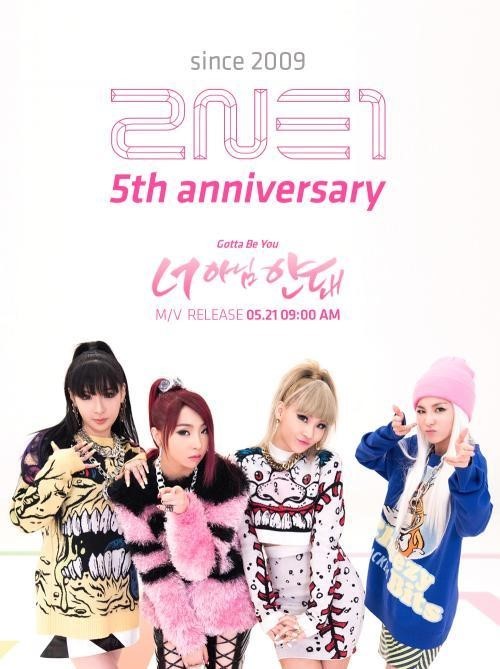 [이데일리 스타in 박미애 기자] YG Entertainment ("YG") disclosed a congratulatory message to celebrate the fifth anniversary of 2NE1's debut.
In the afternoon of May 17, YG disclosed a new image of colorful 2NE1 members on its official blog (www.yg-life.com), celebrating the fifth year of the girl group's debut. In the image, 2NE1 members catch fans' eyes with their unique styles and attractive poses.
Along with this, YG announced that the music video of "GOTTA BE YOU", one of 2NE1's double title tracks, would be released on 9 am of May 21, by putting a phrase that goes 'GOTTA BE YOU M/V RELEASE 05.21 09:00 AM'.
On May 17, 2NE1's fans posted series of celebratory messages online saying, "Congratulations on the fifth anniversary of 2NE1's debut".
2NE1 brought a sensation to the K-pop circles after releasing their debut single album 'FIRE' on May 17, 2009. They broke the fixed image of girl groups that girl groups should be pretty or sexy, and dominated music charts quickly with sophisticated songs that involve lyrics about independent women's image and combine various music genres with hip-hop at their base.
Along with their TV performance of the second full album, 2NE1 held their second world-tour concert 'ALL OR NOTHING' at Seoul's SK Olympic Handball Stadium and are continuing the tour in China, Taiwan, the Philippines, Malaysia and Japan.
The concert is gaining huge popularity with its finest live stage, being joined by world-leading directors TRAVIS PAYNE and STACY A. WALKER once again following 2NE1's first world tour.
On the fifth anniversary of their debut, May 17, 2NE1 will hold a world-tour concert at Asia Mall in Manila, the Philippines and meet with the local fans.
2014. 5. 17.