WINNER'S "Lying Down Show" was Too Fun to Make Fans Fall Asleep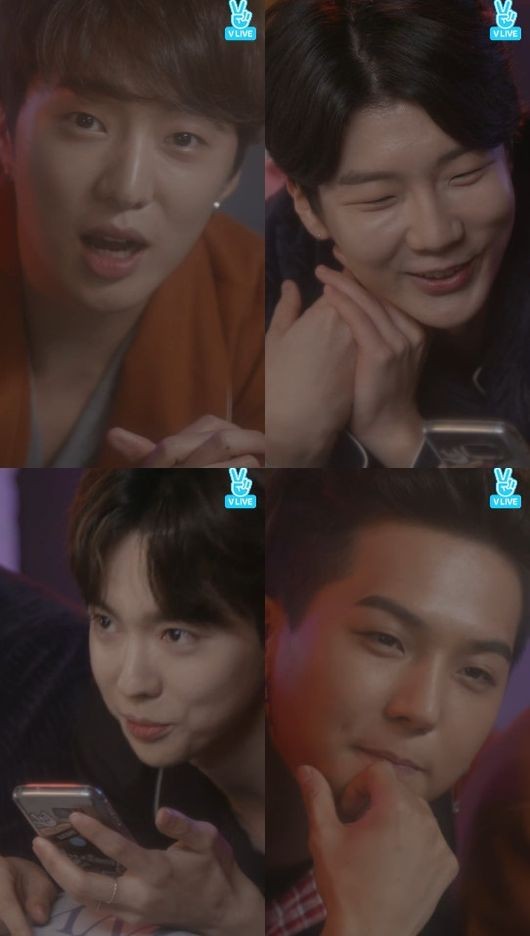 [OSEN=박소영 기자] "We really want to become busy in 2017."
Doing shows lying down is a trend these days, and WINNER could not miss out on the trend. KANG SEUNGYOON, SONG MINHO, KIM JINWOO, and LEE SEUNGHOON lay down on their stomachs with pillows underneath their bellies and did a live show. Fans also enjoyed the show lying down comfortably and fell asleep whenever they wanted.
At 11 PM on January 6, WINNER did a show on Naver V App under the title of "WINNER'S LieV – WINNER's Lying Down Show". As soon as the show began, the four members of WINNER called out the names of the fans watching the show to show their affection.
The theme of the show was "A Line". The members recited a line from a book or a song that they wanted to share with their fans and talked about it. They even played different background music for the lines they chose to create the perfect ambience.
KANG SEUNGYOON chose a line from chapter 1 of "Harry Potter and the Cursed Child Part I", and SONG MINHO read a phrase from the book "I'm Thankful to Myself". LEE SEUNGHOON recited the recipe for chives pancakes from a cookbook. KIM JINWOO chose a phrase from "Little Prince".
KANG SEUNGYOON smiled and said, "This is the first time we talked about books since we've become WINNER. This isn't so bad." LEE SEUNGHOON said, "If we become a top idol group, we could publish books. I remember reading H.O.T's biography when I was a child, and BIGBANG also published a book. We could really do this!"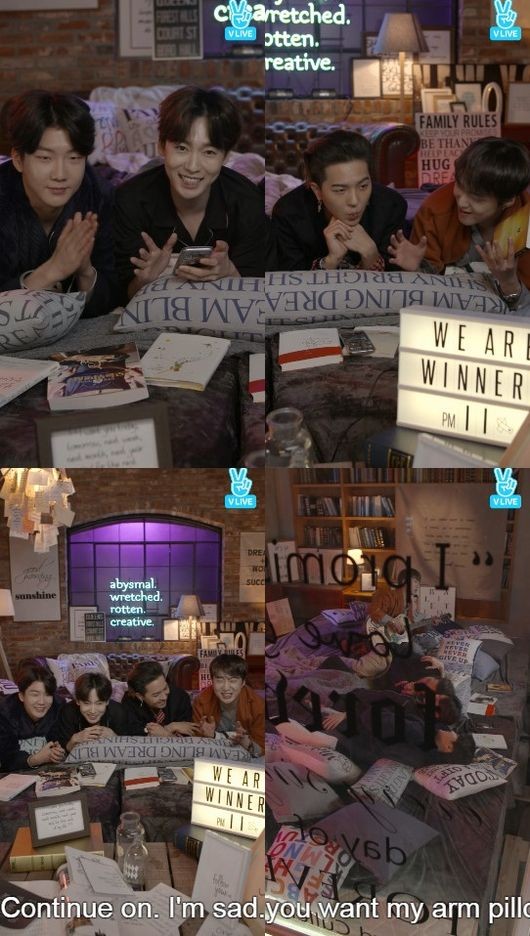 WINNER members also talked about their great ambitions for the year 2017. LEE SEUNGHOON said, "I want to go and make music abroad and do a show lying down." SONG MINHO expressed his determination to make WINNER's comeback a success and said, "I really want us to win an award this year."
KANG SEUNGYOON said, "I watch award ceremonies to become more motivated. We want to become really busy this year. It will be a present for our fans that have waited for so long." To show their support, fans posted comments such as "We'll make you win an award. Wish you have only good luck."
When midnight drew near, WINNER members sang a lullaby live to make fans fall asleep. LEE SEUNGHOON sang out of tune and made everyone laugh, but the members were able to sing in harmony soon enough. KANG SEUNGYOON sang a lullaby softly, and the rest of the members closed their eyes.
2017. 1. 7.