[Yesterday's V] iKON, the Winner of New Artist Awards in Three Countries, Promises to Focus on Korea This Year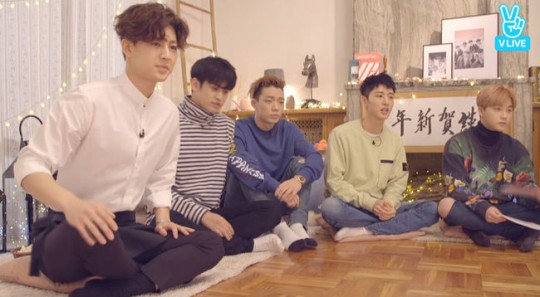 [OSEN=박소영 기자] "Let's have loads of fun this year."
iKON went wild to kick off 2017. The group debuted in 2015 and is the youngest boy band of YG Entertainment. They were only considered as "monster rookies", but now, they have grown and took Japan by storm. They have promised to focus more on Korean this year.  
At 10 PM on January 7, iKON did a show on Naver V App under the title of "KONY'S YEAR GREETING". They started off the show by bowing down to send New Year's greetings to the fans and talked about the love they received from Japanese fans last year. 

iKON received the Best New Artist Award at the Japan Record Awards on December 30 last year. It is the same award that BIGBANG won seven years ago. Since its debut, the group has received rookie awards in Korean, China, and Japan and demonstrated its huge popularity. 
Upon receiving the award, the members said, "We had no idea we would receive this award. We're foreigners in Japan, so we didn't expect something like this. We're really surprised. We received a lot of love in 2016. We'll work harder in the upcoming year." 
iKON's resolution for 2017 is to receive a lot of love in Korea too. The group will continue to do promotions outside of Korea, but at the same time, they plan to release a new album and focus more on Korea to win more love from Korean fans. 

JINHWAN, the oldest member of the group, encouraged the members by saying "Let's get busy this year" and promised to "work harder this year to satisfy the fans and do our style of music." 
YUNHYEONG cooked rice cake soup for the members and said, "Thank you for enjoying my soup. We'll make a comeback and see our fans soon. We really want to go on shows on Korean TV too. Let's have a great year!" 
BOBBY said, "This is my sixth New Year since I joined YG. iKON will keep on being happy and fun." CHANWOO said, "Now that I've become an adult, I want to become a more reliable member."  
B.I said, "We'll focus more on Korea this year. I wish happiness and health for all our fans and all our members. Go iKON!" JU-NE said, "We'll become a better group this year. Thank you!" 
DONGHYUK promised to make a comeback soon and said, "The goal for this year is to do more performances and concerts in Korea so that we can meet you more often. We'll work together to bring you great music and performances. We love you."
iKON's wish for the new year was simple. They just wanted to release a new album and meet Korean fans more often. Fans felt the same way. Everyone wishes that iKON will perform more in Korea so that iKONIC fans will be able to see the group more often in 2017. 
2017. 1. 8