"We don't write scores when writing songs, we just write short memos"
[조선닷컴=김성현 기자] Brother and sister duo "AKMU" released their third full album
A product of unique way of creation based on novel ideas and fresh rhythm
"Even though we stop writing songs right now, we can release albums for the next five years. What is important is not the number of songs, but the quality of songs."
I met AKMU on January 4, at the recording studio of YG Entertainment located in Mapo-gu, Seoul. While listening to LEE CHAN HYUK(20)'s answers to questions, I had to doubt my ears. The interview was about AKMU's third full album "WINTER" released recently. AKMU is a duo of big brother LEE CHAN HYUK and little sister LEE SU HYUN(17). After winning audition show "K-Pop Star" in 2013, AKMU has released three full albums. When including songs used for TV commercials and campaign songs, AKMU has released more than 40 songs so far. "LAST GOODBYE", the title track of AKMU's third full album, is enjoying enormous popularity, staying in No.1 on four music charts since its released on January 6. I asked about the AKMU's secret of writing hit songs.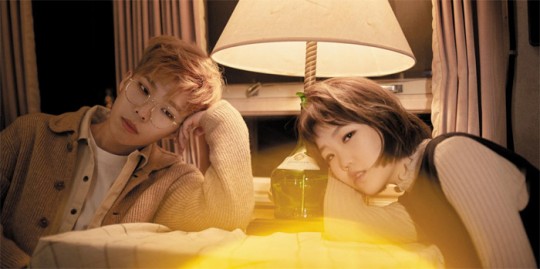 ◇ Never write scores
Big brother CHAN HYUK plays guitar and sister SU HYUN plays piano. However, the brother and sister do not write any scores when writing songs. LEE SU HYUN said, "Or course I can read scores, but I feel uncomfortable with using scores for writing or playing songs." LEE CHAN HYUK writes songs by playing guitar and then just writes lyrics and guitar codes. He voice-records the melody he hums impromptu in his smart phone, but he never listens to it again. Because of AKMU's unique style of writing songs only with short memos, those who arrange their songs sometimes get in troubles. However, AKMU's novel way of writing songs that go away from conventional development of code, as well as their uniquely cheerful rhythm are all possible because of such different way of songwriting.
◇ Don't want to write songs similar to others
LEE CHAN HYUK also said, "When a new melody comes up in my mind, I instinctively doubt about whether it is similar to other songs and I do my best to avoid such similarity." That was a habit formed after LEE CHAN HYUK resolved to never plagiarize other's songs, even from before his debut as AKMU. That is also the reason why he once did not write any songs for six months. He said, "The fact that our songs have different development of melody is an advantage in that it is new and fresh, but listeners would get tired of it more easily." Regarding "LAST GOODBYE", the title track of AKMU's new album, LEE CHAN HYUK said, "These days, I try to write songs that everyone can sing easily at karaoke".
◇ Listen to songs of all genres
Hip-hop is the genre that LEE CHAN HYUK enjoyed the most from before AKMU's debut. In the interview, LEE CHAN HYUK mentioned the names of Korean hip-hop musicians including C Jamm, Beenzino, and EPIK HIHG. More recently, he listens to songs of a wider variety of genres, including jazz, rhythm and blues (R&B), rock and roll, and classical music. That may be why "SPRING" album released last year felt mostly like jazz and R&B.
◇ Write lyrics like writing diary
One of the biggest advantages of AKMU's music is the lyrics filled with detailed and vivid descriptions. "Did you major in attractiveness?/You're more attractive than fried chicken I see while I'm on a diet"("You're Attractive"), "I didn't want to walk so I wiped here and there while lying on the belly. Then, I don't need to wipe the floor with a mop" ("Is It Ramen") are the lyrics that well-describe the details of small happenings in everyday lives. AKMU has an outstanding talent in writing lyrics with topics from ordinary everyday lives. While listening to such a compliment, little sister LEE SU HYUN teased her brother, saying, "You know, my brother never reads books…" and the brother and sister began to jokingly squabble, just like any other brothers and sisters. LEE CHAN HYUK gave a hint on his secret of writing those remarkable lyrics, "I make efforts to write lyrics just like writing diary, as much as possible".
2017. 1. 9.