BLACKPINK x iKON x DAESUNG shined at Japan's A-nation… Fascinated 45,000 music fans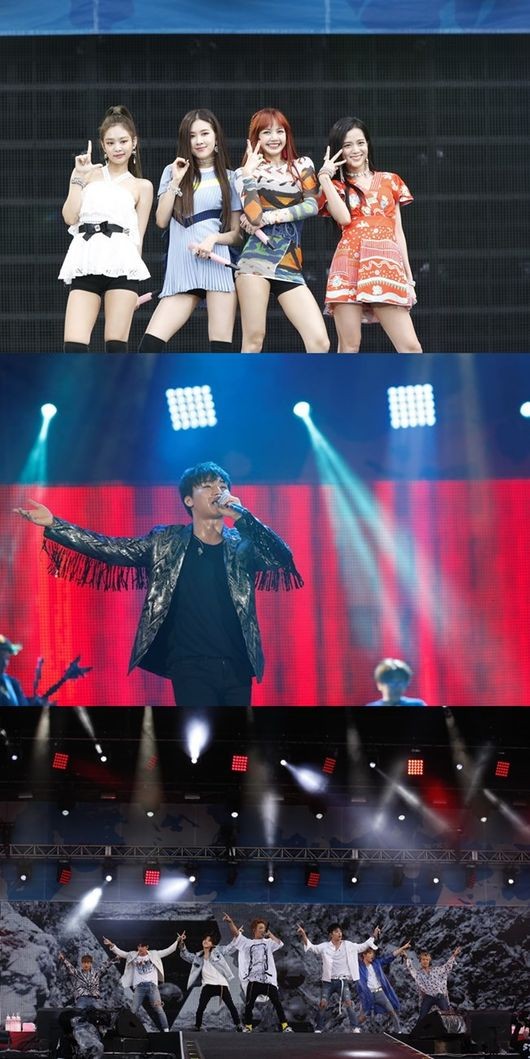 [OSEN=선미경 기자] BLACKPINK, iKON, and DAESUNG presented fantastic live performances at Japan's biggest summer music festival "A-nation 2017". 
On August 27, BLACKPINK, iKON, and DAESUNG performed at A-nation held at Tokyo Ajinomoto Stadium, to fascinate 45,000 music fans. 
BLACKPINK marked the opening of the festival. BLACKPINK electrified the stadium by presenting the performances of their mega-hits including "BOOMBAYAH" whose music video has recently surpassed 200 million on YouTube, as well as "WHISTLE", "PLAYING WITH FIRE", and "As If It's Your Last" all of which have surpassed 100 million views.
BLACKPINK is releasing their official Japan debut mini-album "BLACKPINK" on August 30. The members of BLACKPINK said, "We're so happy to give live performance at this great music festival. Please remember the name BLACKPINK!"
iKON also performed "A-nation" this year, following last year's performance. The first performance given by iKON was the Japanese version of "BLING BLING" that topped Oricon's weekly CD albums ranking. Then, iKON made the atmosphere reach the climax by singing "DUMB & DUMBER" that received the rookie of the year award at Japan Record Awards last year. 
iKON inspired the audience by shouting, "We're here at A-nation again in one year. Let's enjoy together!" iKON also hinted on their active performances in Japan by saying, "We're holding additional concerts of 'iKON JAPAN DOME TOUR 2017' from September this year, so please come to see us". iKON's dome tour will be held in eight cities in Japan. Total 22 concerts of the tour will entertain 233,000 fans. 
DAESUNG appeared on the stage in the later part of the festival and performed his new song "D-Day" released in Japan, "VENUS", and all-time hit song "Look at Me Gwisoon", to boast a perfect harmony with the band and dancers. 
Fans kept chanting "Kang Daesung", the real name of DAESUNG, to prove his firm status in Japan's music scene. 
DAESUNG promised to meet Japanese fans again by the end of the year, saying, "BIGBANG's Japan dome tour from November this year has been confirmed. Let's make good memories together!"
DAESUNG has recently been hosting his solo hall tour "D나SHOW Vol.1" in Japan. Total 39 shows in 18 cities in Japan will entertain 88,000 fans. 
2017. 8. 28.