WINNER Will Recruit Members for Their Official Fan Club, Unit 2… "Get Closer, Meet More Often"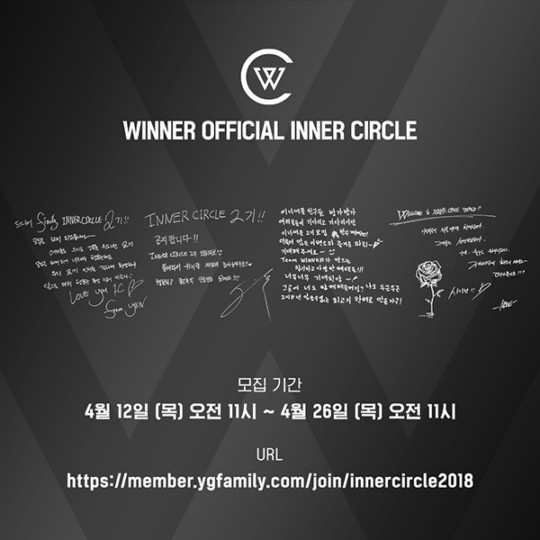 [한국경제tv=유병철 기자] WINNER will recruit unit 2 of their official fan club, 'Inner Circle'.
For 2 weeks, starting from April 12 at 11 AM to April 26 at 11 AM, WINNER will be recruiting members of 'WINNER OFFICIAL INNER CIRCLE UNIT 2'.
It will be the best present for the fans who have waited approximately 4 years, since the recruitment of fan club unit 1, back in 2014.
Korean citizens that can authenticate their real name, and foreigners who live in Korea and hold an alien card that makes name authentication possible can join the fan-club.
There will be various benefits for those who join. Members will get access to artists' schedules and information regarding the fan club, will be provided with artists' contents 4 times a year, and will be given priority on pre-sale tickets in case of public broadcasting or concerts.
They will also be provided with a membership card with WINNER's face or the logo of 'INNER CIRCLE' engraved, along with limited official unit 2 goods.
WINNER has previously mentioned, "We'll try harder to meet closer in 2018" and "Please continue to show love and support" regarding the new fan club recruitment.
On April 4, WINNER released a new album in 4 years. The new release achieved an 'all-kill' in various music charts as soon as the song was released, while also topping iTunes Charts in 18 different countries. Furthermore, the song topped the Comprehensive New Releases Chart and the MV Chart of QQ Music, which is China's largest music platform. The song was also placed at no. 1 at Japan iTunes Pop Album Chart and K-Pop Chart.
After achieving great results in music charts, WINNER is planning to continue their communication with fans through not only fan club recruitments, but also through special exhibitions and variety program appearances. Today at 3 PM, WINNER will communicate with the listeners at SBS Power FM's 'Cultwo Show'.
2018. 4. 12.