BIGBANG SEUNGRI Fascinates 30,000 Fans in His First Solo Tour in Japan…Makes Headlines in Local Press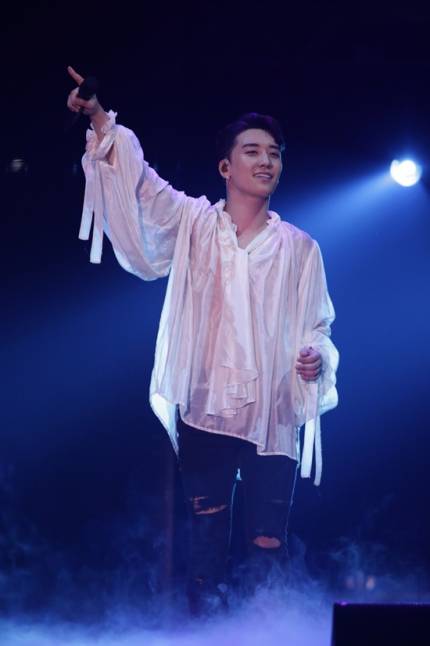 [엑스포츠뉴스=전아람 기자] Group BIGBANG's SEUNGRI fascinated the local fans in his first solo tour in Japan. 
From August 11 to August 12, SEUNGRI held his first solo tour in Japan titled 'SEUNGRI 2018 1ST SOLO TOUR 'THE GREAT SEUNGRI' IN JAPAN' in Makuhari Messe, fascinating a total of 30,000 fans.
SEUNGRI presented fresh joy and attractions through newly arranged tracks in his concert in Japan. He also revealed his various charms by having a DJ time, VJ under large LED lights, and laser illumination on groovy beats that set the concert scene in club vibes. 
SEUNGRI not only performed his solo tracks but also 'HARU HARU' arranged by himself, along with BIGBANG's hit-song medley for the fans that are reminiscent of BIGBANG in full form. 
He performed a total of 27 tracks for 2 hours, releasing passionate energy in Japan following his concert in Korea. As his nickname 'Seungtsby' suggests, SEUNGRI presented various attractions including DJ, club, dance, and acting for the audience and their special memories. 
The 6 major sports newspapers in Japan headlined and praised SEUNGRI's solo tour.
Sankei Sports wrote, "SEUNGRI started his solo tour filled with determination. He filled up the stage by himself and not as a member of BIGBANG, revealing his capabilities", while Sports Nippon introduced, "SEUNGRI's first solo tour in Japan progressed with touching moments". 
SEUNGRI's Japan tour will be consisted of 6 concerts in 3 cities and is expected to bring out 78,000 audiences. SEUNGRI will continue his solo tour by holding the remaining 4 concerts on September 5~6 in Fukuoka International Convention Center, and from September 19~20 in Osaka Jo Hall. 
After successfully wrapping up his first solo concert in Japan, SEUNGRI will return to Korea and perform in Daegu in 10 years. He will perform in Daegu EXCO's first floor on the 15th at 6 PM, and in Busan BEXCO Exhibition Hall 1 on the 19th at 6 PM. He originally planned to perform only in Seoul but decided to perform nationwide, as the reactions from his first solo concert were supportive. 
2018 . 8. 13.