2nd World Tour Title: 2NE1 AON (ALL OR NOTHING)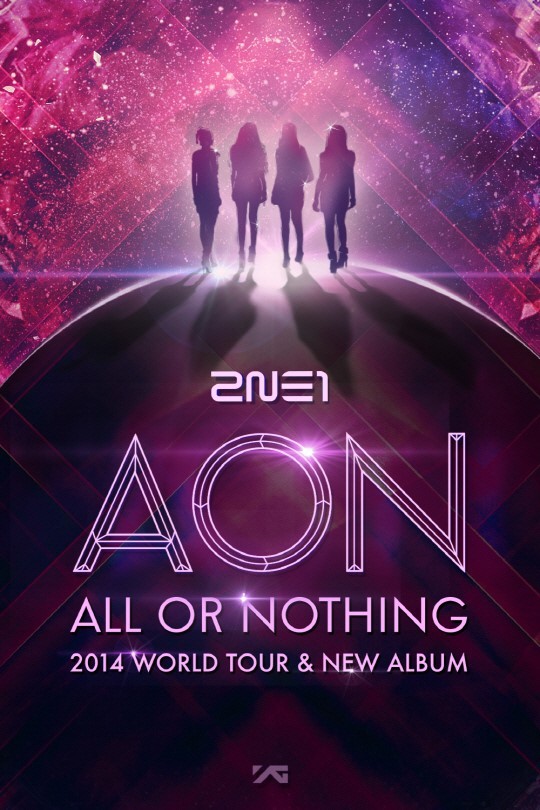 [스포츠조선 이정혁 기자] 2NE1 unveiled the title for their 2nd World Tour and new album.
In the afternoon of Jan 15, a poster uploaded on YG Entertainment's official blog  (www.yg-life.com) revealed a phrase: '2NE1 AON (ALL OR NOTHING) / 2014 WORLD TOUR & NEW ALBUM.'
The silhouettes of 2NE1 are taking a step forward into space, a symbol of a new start, while also connoting their re-appearance on stage. This will be a hint for yet-to-be-unveiled information on their World Tour and the concept of their new album.
Starting from concerts at Seoul Songpagu Olympic Park SK Handball Arena on March 1 and 2, 2NE1 is set to kick off their 2nd grand World Tour.
Tickets for Seoul concerts, the first ones in line, will be available on Gmarket on Jan 21 and 22.
Fans are extremely excited about the upcoming concert, as 2NE1 showcased new songs last year including 'Falling in Love,' 'Do You Love Me,' and 'Missing You,' along with CL's 'The Baddest Female.' More expectations build up as it is said the two world-renown directors Travis Payne and Stacy Walker will once again join in on the girls' World Tour.
2NE1, after South Korea, will be visiting 9 countries including Japan and China, meeting fans in 13 cities including Seoul, Hong Kong, Singapore and Yokohama for their 17 concerts. All eyes are on the girls to see what they've got this time for the international fans.
2014. 1. 15.