[Analysis IS] Will BIGBANG eat up whole August… New songs + "Infinite Challenge" music festival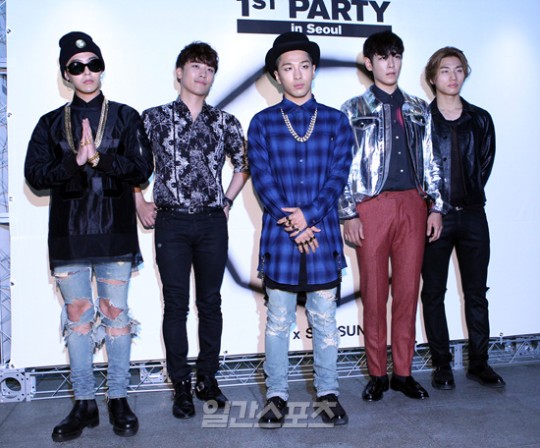 [일간스포츠=황미현 기자] BIGBANG seems to be eating up the whole music scene for this August.
BIGBANG released last single "E" of "MADE" series on August 5, to unveil "LET'S NOT FALL IN LOVE" and "ZUTTER". The two songs' power is larger than expected. The two songs swept all major music charts upon their release, and such record is being maintained for three days.
Plus, as BIGBANG has said that they will do a lot of TV performances with "E" album, the popularity of the new songs is expected to continue for a longer period of time. BIGBANG will unveil the first new song for this month in SBS "INKIGAYO" on the 9. Since BIGBANG always shows well-organized performances, the performance to be unveiled is expected to create another sensation.
BIGBANG will be the one to succeed their own popularity drawn these days. BIGBANG's G-DRAGON and TAEYANG are performing in the music festival of MBC's "The Infinite Challenge", which is drawing a keen attention. Because the songs of the music festival are released on music-streaming websites, it is expected that BIGBANG will be the one to succeed the team's own popularity.
Of course other teams of "The Infinite Challenge"'s music festival are the ones who are always ranked on high places on charts, but as music fans' expectations for the harmony to be created by GD and TAEYANG together with Kwanghee have already grown, the focus of the attention is put on the GD, TAEYANG, and Kwanghee team.
A music industry insider said, "BIGBANG could not do that many TV performances because of their world tour in June and July, but in this August, they are performing in a very popular TV show and doing TV performances for the new songs, their power will be even bigger. Other singers have even adjusted the schedule of their comeback, to avoid confrontation with BIGBANG and the music festival of "The Infinite Challenge".
BIGBANG has been dominating music charts, releasing new songs at the beginning of every month since May. Even though they have not given that many TV performances, BIGBANG drew big popularity from not only Korean but also overseas fans.
Such big popularity is shown by "ZUTTER" which took the No.1 in the iTunes single chart of 10 countries: Brunei, Cambodia, Hong Kong, Macao, Malaysia, Singapore, Taiwan, Vietnam, Indonesia, and Mongolia, and "LET'S NOT FALL IN LOVE" which is in the second place on the same chart of five countries: Macao, Malaysia, Singapore, Taiwan, and Thailand, on the third day of their release.
Meanwhile, BIGBANG who is carrying out world tour along with new release, will hold concert in Shenzhen in July, and then continue with the tour to have 70 concerts in 15 countries including the United States and Canada.
2015. 8. 7.