BIGBANG's Last 4 Month In Numeric Value: 1 hour, 100 Million, 22 [MADE①]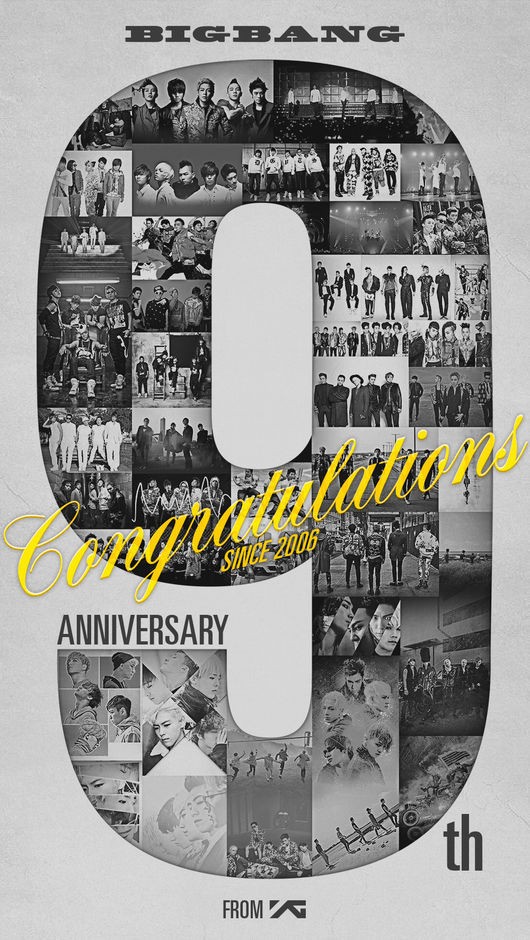 [OSEN=정유진 기자] BIGBANG, since showcasing their first of the MADE Series in May 2015, has been on a roll. They have not been on TV much, but they ranked #1 on charts and music programs, going beyond what usual idol groups achieve. Their four months have been filled with incredible incidents. The summary of their record-breaking achievements from music charts, programs and YouTube views is ready for you to read.
◆ May: First Comeback in 3 Years, All-Kill in "1 Hour"
MADE SERIES's first album "M" topped chart immediately after the release, and this instantly quenched the thirst of the fans who had been waiting for 3 years since "ALIVE." "LOSER" and "BAE BAE" from album M occupied the top two slots in Melon, Bugs, Genie, Olleh Music, Mnet, Monkey 3, Soribada, Naver Music, Daum Music, and Cyworld Music. "LOSER" was on the top for a whopping 17 days in a row. The top position was taken by IU and Zion.T briefly but BIGBANG returned to the position on the 23rd day of its release. On music programs, "LOSER" won BIGBANG 10 trophies. According Genie, "LOSER" topped the chart for 3 consecutive weeks in May, and this is the first one to break the record of Busker Busker's Cherry Blossom Ending in April 2014.
◆ June: Albums 'M' and 'A' Attract 100 Million Viewers
Album "A" continued on the record-breaking journey. On June 1, the songs topped charts immediately after release again. "BANG BANG BANG" was particularly popular, and it topped real-time music charts of Melon, Monkey 3 and Olleh Music for 13 days. "BANG BANG BANG" and "WE LIKE 2 PARTY" were globally popular, which is proven by the achievement of topping Billboard's World Digital Song in the United States. BIGBANG already topped the chart the previous month with "LOSER" and "BAE BAE" as well. But that's not the end. Albums "M" and "A" topped iTunes in China, Hong Kong and Japan as well. But what's most notable is the number of viewers that clicked on their music video. At 8am on June 25, "LOSER" attracted 37.2 million views, "BAE BAE" 27.5 million, "BANG BANG BANG" 23.1 million, and "WE LIKE 2 PARTY" 12.1 million. Altogether BIGBANG attracted a whopping 100 million viewers.
◆July: 'D' Sold 653,102 Copies In China… Largest Volume in Shortest Period of Time
The songs in the July album were "SOBER" and "IF YOU." "IF YOU" was considered the most sentimental song of BIGBANG, and it topped 8 real-time charts including Melon, Olleh, Monkey 3, Soribada, Bugs, Genie and more. They topped charts for 3 months in a row without a break. Fans overseas were excited as well. "IF YOU" topped 9 iTunes on July 2 in Brunei, Hong Kong, Macau, Malaysia, the Philippines, Singapore, Taiwan, Vietnam and Indonesia while "SOBER" ranked #2 in Hong Kong, Macau, Singapore, Thailand and Vietnam. "IF YOU" ranked #22 in the United States as well. Album D sold a whopping 653,102 copies in China's QQ Music as digital mini album from July 1 to 3. The three albums "M," "A" and "D" sold a total of 2 million copies in China. In just one month, the viewer number on YouTube reached 200 million. In June, "BANG BANG BANG" was the most-watched K-Pop music video in the world and in the United States.
◆August: 22 Trophies
In the month of August, BIGBANG achieved some amazing record-breaking deals. "LET'S NOT FALL IN LOVE" unveiled at 0 hour of Aug 5 instantly topped 8 major charts on Melon, Bugs, Olleh, Naver and more along with the other track "ZUTTER." It also topped 16 iTunes around the world in Taiwan, Thailand, Singapore, Cambodia, Malaysia and more. In Canada it ranked #2 while #4 in the United States and #17 in the United Kingdom. BIGBANG showed the same record as the fellow artist PSY from the same agency. According to Billboard on Aug 11 (local date), "LET'S NOT FALL IN LOVE" was ranked the top in World Digital Songs charts. This became the third one to top the particular chart following "LOSER" and "BANG BANG BANG," which is a first since PSY. BIGBANG won 22 trophies altogether from programs like Inkigayo. These incredible numbers clearly prove that 2015 is indeed BIGBANG's year.
2015. 8. 29.