"RHYTHM TA", the 2nd song in iKON's debut half album… Composed and lyrics by B.I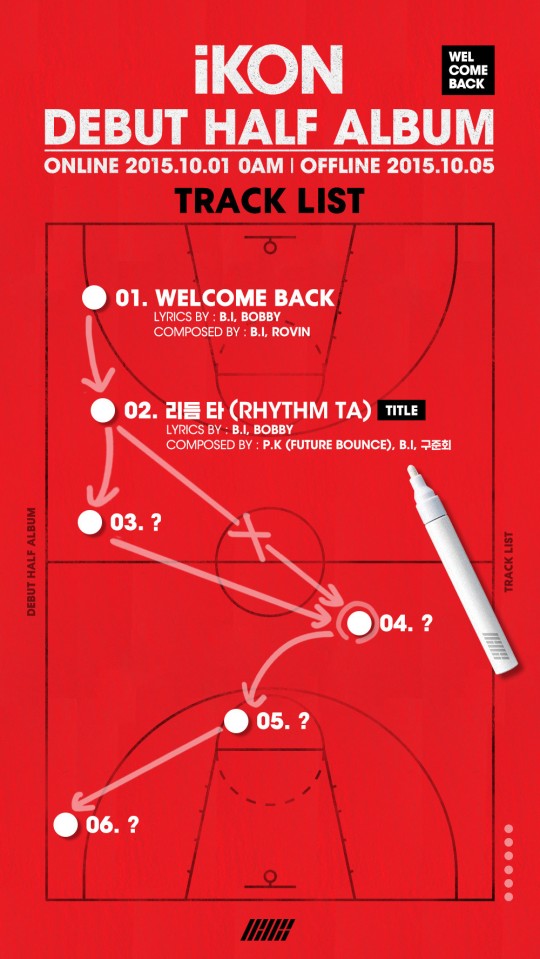 [일간스포츠=황미현 기자] The title of the second song in the track list of YG rookie boy group's debut half has been unveiled.
On the 22 in the morning, YG Entertainment unveiled a poster under the title of "iKON – DEBUT HALF ALBUM 'WELCOME BACK' TRACK LIST #2", on the company's official blog.
After announcing "WELCOME BACK", the title of the first track in iKON's debut half album, with an image of the dot-exercise board for basketball game on the 21 this month, the second poster just unveiled is announcing that the title of the second track in the half album is "RHYTHM TA".
The poster is drawing all the more attention, as its credits say that B.I, BOBBY, and JU-NE took part in writing the melody and lyrics of the song. The poster is also saying that the song "RHYTHM TA" is one of the titles songs of the album.
iKON made a grand debut by releasing their debut warm-up single "MY TYPE" on the 15 this month at 0 o'clock, sweeping the No.1 on a variety of real-time, daily, and weekly music charts. Music fans are expressing rising expectations for other songs in the debut half album of iKON, while the title of the songs in the album is unveiled one by one after iKON proved their enormous potential by yielding a big influence on charts.
iKON's debut half album "WELCOME BACK" with six tracks will be released on-line on October 1 and off-line on October 5. Plus, iKON will release their debut full album "WELCOME BACK" on November 2, to begin their career in earnest. On October 3, iKON will hold debut concert "SHOWTIME" at the Olympic Gymnastics Hall in Seoul, to officially meet their fans for the first time.
2015. 9. 22.