[People IS] The unprecedented record written by "monstrous rookie" iKON for 2 weeks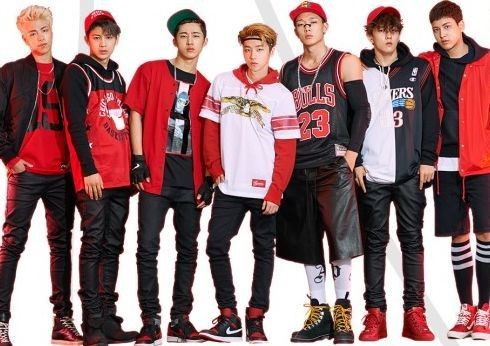 [일간스포츠=황미현 기자] iKON has written an unprecedented record within two weeks of the release of their debut song, which is an exceptional case even for top idol singers.
iKON released their debut warm-up single "MY TYPE" on the 15 this month. They have made no TV appearance. However, the team swept the No.1 on music-streaming websites upon their debut. That was the beginning.
# No.1 on chart for six days in a row
iKON stayed in the top place for six days after releasing "MY TYPE". It is a significant achievement to maintain the No.1 on charts for a week, especially in these days when the rankings on music charts keep changing rapidly. It is never easy to maintain the No.1 for a long time, when an army of new songs are poured into charts day after day.
iKON wrote the record of the No.1 on charts for six days in a row, even before officially beginning their performance. Furthermore, the fact that an idol group made such an achievement with their debut song heralded the birth of a monstrous rookie group in Korea's music scene.
# Standing out on foreign charts
iKON stood out in not only the Korean music scene but also overseas pop market. "MY TYPE" took the No.1 on the iTunes single chart of seven countries: Hong Kong, Laos, Macao, Malaysia, Singapore, Thailand, and Vietnam, upon its release.
In the Chinese region, the music video of "MY TYPE" topped the music video chart and K-pop music video chart of QQ Music, China's biggest music-streaming website. Plus, the video took the No.1 on the key search-word chart of Weibo, China's biggest social media network, while the word "iKON" recorded 1.3 billion searches.
# No.1 trophy from music shows without performing in them
iKON obtained the No.1 trophy in TV music shows upon their debut, actually, two No.1 trophies. In SBS "INKIGAYO" aired on the 27 this month, iKON received the No.1 trophy, after receiving their first-ever No.1 trophy in MBC "Show! Music Center" a few days before.
Even though iKON took the No.1, they could not directly receive the trophy in the show, because they have never performed in it. That was a very exceptional scene as well.
# Mega-scale debut concert
Many idol singers hold a showcase with their debut, but iKON holds "concert" for their debut. They will have the debut concert at the Olympic Gymnastics Hall, which is usually the concert hall for only top singers. iKON proved their enormous potential once again, by selling out all the tickets for the debut concert upon the opening of ticket sale.
In debut concert "SHOWTIME", iKON will spend a meaningful time with fans who have long been waiting and supporting for iKON's debut, to have open talks and express their gratitude. Plus, iKON will present performances for the songs of their debut album, which is raising fans expectations further.
Meanwhile, iKON who is creating sensation with their warm-up single "MY TYPE" will release "DEBUT HALF ALBUM 'WELCOME BACK'" on October 1 and "DEBUT FULL ALBUM 'WELCOME BACK'" on November 2, to kick off their performance in earnest.
2015. 9. 28.