YG Signs a Deal with China's Tencent and Weying, which is Expected to Create a Great Synergy Effect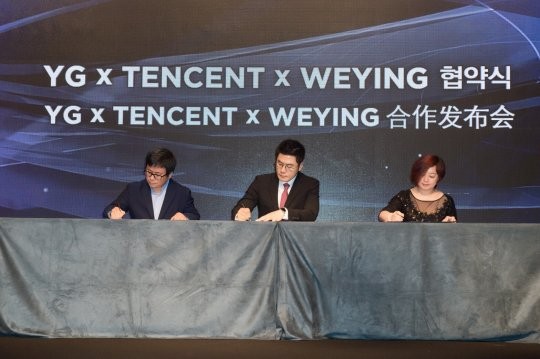 [동아닷컴=홍세영 기자] The signing ceremony of the agreement between YG Entertainment and China's leading online company Tencent Group and top online ticketing firm Weying Technology took place, signaling the start of a new Korean wave.
At 11 AM on May 31 at the Grand Hyatt Hotel in Seoul, the signing ceremony of the agreement between YG Entertainment and China's Tencent Group, and Weying took followed by a business presentation by YG and Tencent Video.
The signing ceremony was attended by YG CEO YANG MIN SUK and COO CHOI SUNG JUN, Tencent Video's Film/Drama Department General Manager and Editor-in-Chief Suman Wang, Tencent Video's Variety Department General Manager Tina Ma, Weying Technology CEO David Lim, and others.
Usually, signing ceremonies between Chinese firms and Korean entertainment companies take place in China, but this time, Chinese representatives visited Korea to sign the agreement.
On May 27, YG announced that the Chinese companies agreed to invest 85 million dollars in YG. The signing ceremony served as a venue to announce their short-term projects and long-term goals for YG Entertainment in China. They also explained the purpose of their strategic investment, the future implications of their joint venture in China, and plans about producing content involving YG artists and Tencent's platform.
WINNER members attended the business presentation by YG and Tencent Video that took place after the signing ceremony. They announced that KANG SEUNGYOON and SONG MINHO will appear on "The Collaboration," which is the first idol audition survival show among Korean and Chinese musicians and is made by SBS Media Net, Tencent Video, and YG.
CEO YANG expressed his expectations for the agreement by saying, "This year marks the 20th anniversary of YG. We've come this far only focusing on producing good content. If we are to go further, we need a channel that will enable us to communicate with more people. We believed that if YG finds a perfect partner in China, it will create a great synergy effect, and that's why we have decided to join hands with Tencent and Weying. The mobile service they provide is used by more than half of the Chinese population, and now we can use the platform to communicate with at least 600 million Chinese people. By using their platform, we can understand our fans in China better and communicate more effectively."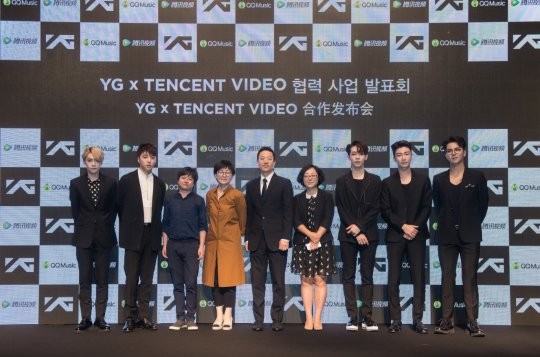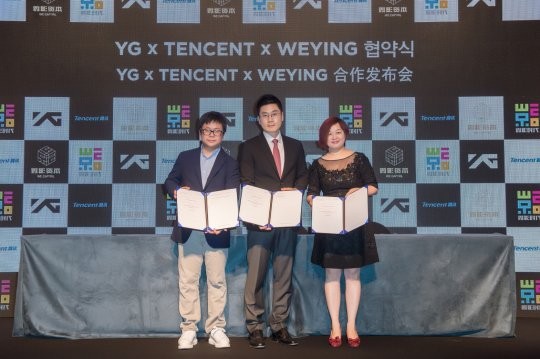 Weying Technology CEO Lim explained, "Weying and YG have become strategic partners, and together we plan to establish a joint venture in China. Weying is very optimistic about YG's future, and we want to bring the excellent content of YG and Korea to the Chinese audience. Weying has the largest entertainment mobile platform in China, and we want to seek new and innovative business models with YG. Today's signing ceremony is a breakthrough in the process of our two companies going global. It will be a win-win for all."
Tencent's Suman Wang said, "Tencent is one of the biggest Internet companies in China. We offer game, SNS, and video services and as much as 800 million people use our services."
Tencent Video's Variety Department General Manager Tina Ma went over the business plans, "YG agreed to provide its music and content to Tencent Video exclusively, and we will open an official YG website where the videos will be released. Concerts by YG artists will also be streamed live exclusively on Tencent's platform."
She went on to say, "Through Tencent's videos, YG will be able to show their fans in China a variety of YG video contents such as music videos and dance practice videos exclusively. In the past year, we have worked together closely in providing a live steaming service of concerts. In the case of PSY's concert last year, the live streaming of his concert posted the highest views."
"More than 160,000 people paid to watch BIGBANG's concert in March 2015, and it recorded the highest number of page views in the history of pay video streaming. We have already produced two TV shows together, including 'The Collaboration,' which is an idol audition survival show that features four Korean musicians including KANG SEUNGYOON and SONG MINHO and four Chinese musicians. There is also another show introducing Korean fashion trends, beauty products and music to China under the provisional title 'Star's Taste'", added Tina Ma.
2016. 5. 31.