YG announced, "Rebirth of hit songs… SECHSKIES releases new album 'Re-ALBUM'" (official announcement)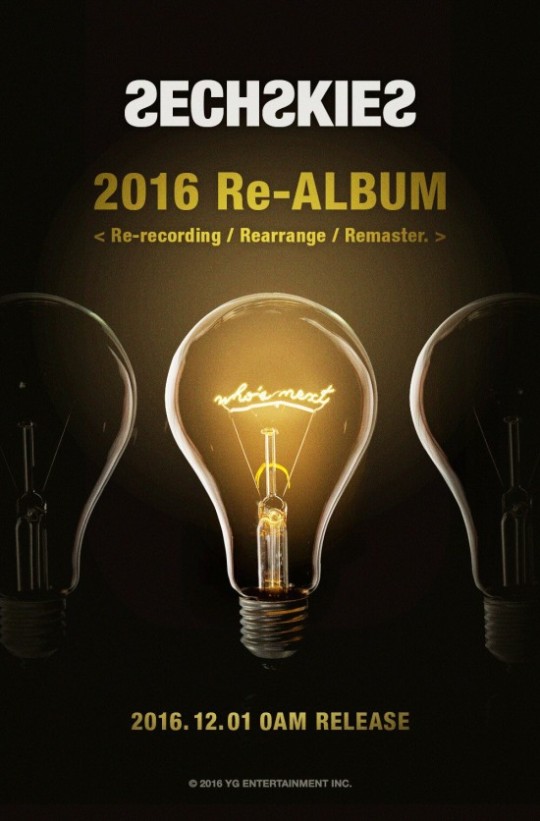 [헤럴드POP=임지연 기자] SECHSKIES is releasing a new album on December 1.
On November 23, a poster that announces the release of SECHSKIES' new album was unveiled on YG Entertainment's official blog. The poster has a phrase "2016 Re-ALBUM", along with "Re-recording-rearrange-remaster".
The new album has the new 2016 versions of 10 past hit songs of SECHSKIES.
The poster shows words that go "Re-recording / Rearrange / Remaster". Just as the words say, SECHSKIES' past hit songs were re-arranged into the latest style by YG's producers. Then, SECHSKIES members re-recorded the newly-created songs and they were also newly mixed and mastered to be included in the new album.
The idea of newly creating SECHSKIES' songs that made great hit 16 years ago came from the suggestion of YG's head producer YANG HYUN SUK after seeing SECHSKIES' concert in September this year.
For SECHSKIES who is coming back to the stage after 16 years of absence from the music scene, YG's CEO YANG HYUN SUK took extra care, supporting the members and checking the choreography and movement of SECHSKIES members on the stage of the concert. Eventually, the concert was finished in a great success and SECHSKIES fans who gathered together for the first time in 16 years praised the quality performances produced by YG and expressed their gratitude.
YANG visited the waiting room of SECHSKIES after the end of the concert and made a suggestion to recreate SECHSKIES' past hit songs in 2016 versions, to let the songs be known to young generations of these days, who do not know about SECHSKIES. Such suggestion made lightly by YANG will be realized three months later, on December 1.
SECHSKIES became the first one to come back to the music scene among first-generation idol groups in Korea by releasing "THREE WORDS", their new song in 16 years, on the 7 last month. SECHSKIES surprised even music-industry insiders, sweeping No.1 on all domestic music charts and No.1 on Gaon's monthly chart, as well as entering top 100 on charts with 13 past hit songs.
In the meantime, YG is consistently working on SECHSKIES' new songs. Next year, in celebration of the 20th anniversary of SECHSKIES' debut, a 20th anniversary concert will be held on April 20 and new songs will be released. 
SECHSKIES made debut in 1997 with debut song "School Byeolgok". Then, SECHSKIES emerged as a top idol boy group by recording mega-hits with "Couple", "The Way This Guy Lives – Pomsaengpomsa", "Comeback" etc. However, suddenly in 2000, SECHSKIES announced their disbandment. 16 years later, in 2016, SECHSKIES was reunited for their performance in MBC TV's "The Infinite Challenge" show. Then, SECHSKIES signed management contract with YG Entertainment and began their career in earnest again by holding a concert. After reunion, SECHSKIES boasted their still-big influence in the music scene by sweeping major music charts with their new song "THREE WORDS" released last month. 
2016. 11. 23.