BIGBANG, record-breaking boy group with 5 MV that surpassed 100 million views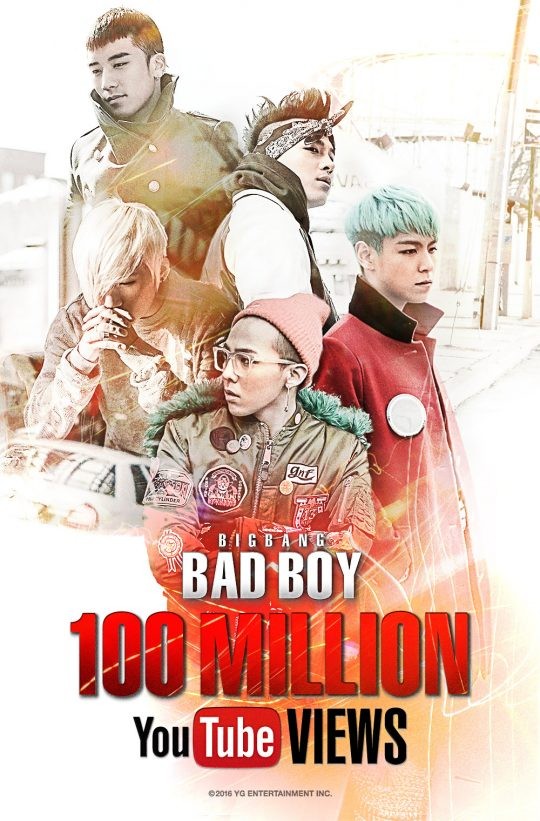 [텐아시아=조현주 기자] The music video of BIGBANG's "BAD BOY" has surpassed 100 million views on YouTube.
As of December 14 at 6:55PM, the official music video of BIGBANG's "BAD BOY" recorded 100,003,361 views, proving its never-ending popularity.
"BAD BOY", the title track of BIGBANG's fifth album "ALIVE" released in February, 2012, is a hip-hop track with a tender melody and rhythmical hook part.
The song's music video was shot on the street of Brooklyn, New York, to present care-free BIGBANG members against the backdrop of New York's vintage atmosphere. At the time of the release of the video, the unique fashion of each member of BIGBANG also drew keen attention.
The music video of "BAD BOY" has been continuously viewed since its release and reached 100 million views on December 14 this year. That made BIGBANG set a new record of being the first-ever Korean boy group with five music videos surpassing the 100 million views mark on YouTube: "FANTASTIC BABY", "BANG BANG BANG", GD&TAEYANG's "GOOD BOY", "LOSER", and now "BAD BOY".
In the meantime, BIGBANG is sweeping No.1 on the charts of eight major music-streaming websites in Korea, upon the release of their third full album "MADE THE FULL ALBUM". BIGBANG is also sweeping No.1 on the iTunes albums chart of 19 countries, proving their enormous influence in the global music scene.
2016. 12. 15.