A Promotion Poster for GD's World Tour Featuring an Intense Image of GD Revealed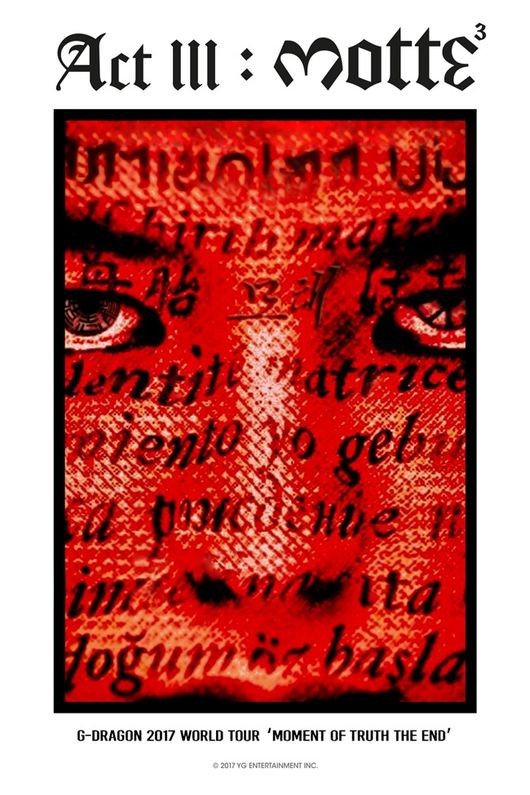 [OSEN=선미경 기자] A poster and a short clip promoting the solo world tour of BIGBANG's G-DRAGON has been revealed.
t 3 PM on May 3, YG Entertainment posted a poster promoting G-DRAGON's solo world tour titled "ACT III, M.O.T.T.E" on its official blog. The poster features the word "matrix" translated in various languages on top of the face of G-DRAGON to convey the message of his solo world tour. The short clip shows G-DRAGON spraying red liquid onto a calligraphy painting of "母胎" by a master calligrapher. It is like watching performing arts and leaves a strong impression on the viewers. 
G-DRAGON will be telling the story about the third chapter of his life, his life as an ordinary 30-year old guy and his life as an artist. It will be a chance to see the true G-DRAGON and the pain and loneliness behind the glamor of his successful life as a famous artist.
World-renowned creative director Willo Perron will be taking part in G-DRAGON's solo tour, raising the expectations even more. 
Willo Perron is a designer/director, and he has worked with world-class musicians such as Rihanna, Kanye West, and Drake and done interior designs for global brands. He not only does stage designs but also video, interior, and installment designs and has formulated his own style. 
G-DRAGON's solo tour "ACT III, M.O.T.T.E" will kick off with a concert at the Sangam World Cup Stadium in Seoul on June 10. Then, he will hold concerts in a total of 19 cities: three Asian cities (Macao, Singapore, and Bangkok), eight North American cities (Seattle, San Hose, Lost Angeles, Houston, Chicago, Miami, New York, and Toronto), four Oceania cities (Sydney, Brisbane, Melbourne, and Oakland) and three Japanese cities (Fukuoka, Osaka, and Tokyo). He is planning to hold concerts in more cities later on. 
2017. 5. 3.