G-DRAGON To go on His First Solo Europe Tour and Hold Concerts Across the Continent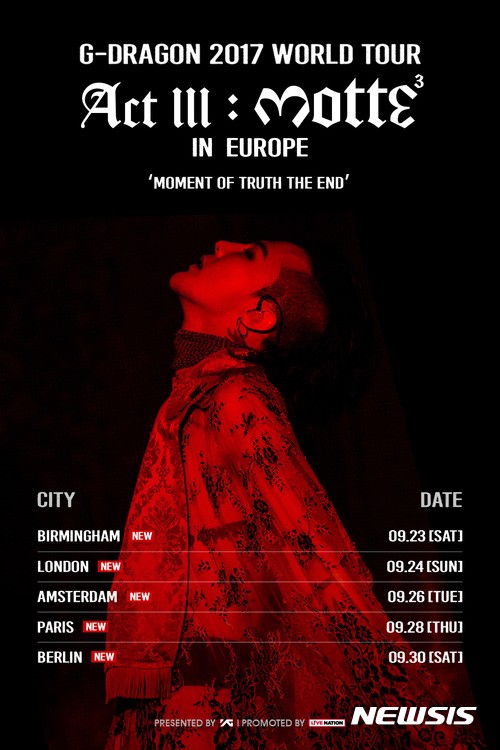 [서울뉴시스=이재훈 기자] BIGBANG's leader G-DRAGON is to go on a solo tour in Europe.  
G-DRAGON's agency YG Entertainment announced on June 26 that G-DRAGON will be holding more concerts in Europe as part of his "ACT III M.O.T.T.E" tour. The additional concerts will take place in Birmingham, London, Amsterdam, Paris and Berlin.  
BIGBANG held a concert in London in 2012 for their "BIGBANG ALIVE GALAXY TOUR 2012", the group's first ever world tour. However, this will be the first time that G-DRAGON will be performing in Europe as a solo musician. 
YG said, "This has more meaning as he will be holding concerts in five major European cities. G-DRAGON has built quite a name for himself by participating in high profile fashion shows and events. However, now G-DRAGON's fans in Europe will actually be able to see him perform." 
For his solo tour, G-DRAGON will be holding concerts in a total of 29 cities around the world: five European cities, eight North American cities, four Oceanian cities, and three Japanese cities. 
G-DRAGON made a comeback by releasing a solo album titled "KWON JI YONG" in June 8. The album has swept the online charts and topped three Gaon charts. G-DRAGON also won five trophies in music chart shows. 
On June 19, G-DRAGON also became the first Korea solo musician to become No.1 on US Billboard's World Albums Chart for two weeks in a row. 
G-DRAGON finished his solo concerts successfully in Singapore on June 24-25 and will continue his tour by performing in Bangkok on July 7-8. 
2017. 6. 26.