TAEYANG's Comeback D-1, Highlights of all new songs fully unveiled… Bold promotion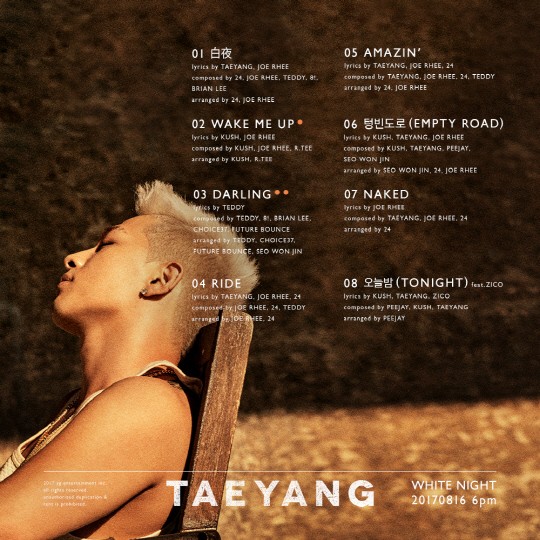 [스포츠조선=김영록 기자] TAEYANG began a bold promotion for his new solo album "WHITE NIGHT" to be released on the 16 this month, unveiling the highlights of all the songs in the album. 
On August 15 in the morning, a track list of the eight new songs of TAEYANG's new album including the title and credits, as well as the highlight parts of all the songs were released on YG's official blog. 
The highlight compilation of the news songs starts with that of No.1 track "WHITE NIGHT" and then continues to "WAKE ME UP" (tittle track), "DARLING", "RIDE", "AMAZIN", "EMPTY ROAD", "NAKED", and "TONIGHT" feature by ZICO, in the named order. 
Even though the highlight compilation lasts only about a minute, TAEYANG's vocal changes colorfully in it, to raise fans' anticipation for TAEYANG's new album. 
The credits in the track list of TAEYANG's new album show participation by new artists such as JOE RHEE, 24, R.TEE, etc., in the album along with TEDDY and KUSH who have produced TAEYANG's hit songs so far. 
The synergy between veteran solo musician TAEYANG who celebrates the 9th anniversary of his solo debut this year and those new artists is drawing keen attention from music fans. 
After the release of his new album, TAEYANG will appear in many variety TV shows including "Knowing Bros", "Single Life", "Thinking of Oppa", etc. So far, TAEYANG has not appeared in TV shows that much, so the news of his appearance in variety shows is exciting many fans, as TAEYANG is expected to unleash his personal appeals that have been behind the veil so far. 
TAEYANG will also hold "TAEYANG 2017 WOLRD TOUR IN SEOUL" on the 26 and 27 this month at Jamsil Gymnasium in Seoul. 
2017. 8. 15.