[OFFICIAL] iKON Confirmed to Release Their 2nd Full-Length Album 'RETURN'…A Comeback in 2 Years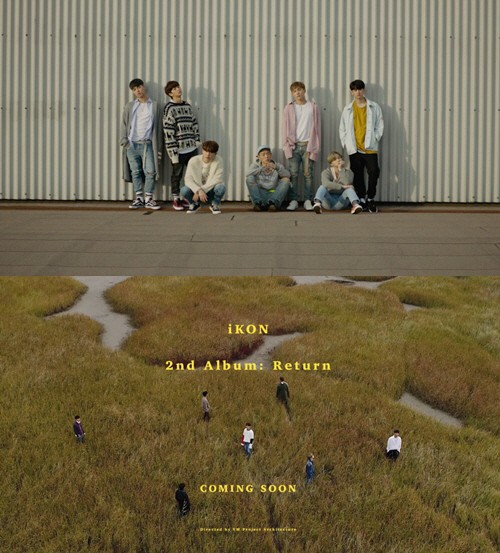 [스포츠조선=조윤선 기자] Group iKON will release a full-length album and comeback in 2 years and 1 month. 
Through YG Entertainment's official blog (www.yg-life.com), iKON released a comeback teaser clip today at 4 PM. The title of the album will be 'RETURN'. It's a comeback in 2 years and a month since their first official album, 'WELCOME BACK'.
In the clip, BOBBY recites a meaningful monologue. In a calm voice, he states "I'll re-live the same day even if I can repeat this life / If I can feel my heart pound again / Nothing's change we just got lost in time / You, me, and us we all still exist at this place", emphasizing the 'first intentions'.
iKON made debut with the song 'MY TYPE' on September 2015. They dominated real-time, daily, and weekly charts as soon as they made debut, establishing their presence in the music industry. They later proved their nickname 'Monster Rookie', by dominating charts in Korea and in overseas with songs such as 'APOLOGY', 'RHYTHM TA', and 'DUMB AND DUMBER'. 
iKON's charms were also recognized overseas. After their debut in Japan on January 2016, they held a dome tour after the shortest period of time since debut as foreign artist. In 'Japan Record Awards' held in the same year, they received the best rookie award, which was the first time a Korean artist received the award since BIGBANG, who received the award 7 years ago. They set a milestone by receiving the best rookie award in Korea, Japan, and China.
Recently, the group made appearance in JTBC's 'iKON PICNIC', and received a lot of support from viewers with their 'beagle-like' unexpected charms, different from their images on stage. 
On this year's comeback, they will be active in Korea more than they did before,  since they decided to grant the request by fans. iKON's strong will to communicate with the fans made this possible. As the album came out after a while since their debut album, people are wondering what kind of great songs iKON will perform, and their active promotion plans for the album.
2018. 1. 6.